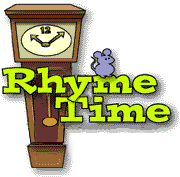 Today I was thinking about what little game that I could play with my firsties when school starts. There is always such a huge gap in abilities, that the first of the year can be a struggle. I wanted to play an I Have, Who Has game, but didn't want it to involve a lot of reading. Soooo....I came up with this
Rhyming version of I Have, Who Has.
It's not quite what I had hoped it to be---but it should still be something fun for them, and a little mini Kindergarten assessment at that.