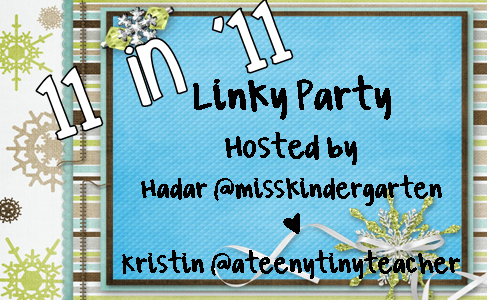 Hadar at
Miss Kindergarten
and Kristin at
A Teeny Tiny Teacher
are hosting a linky party for the top eleven in eleven. Here are my top 11!!
11) Favorite Movie I Watched:
The Adjustment Bureau--I just LOVE Matt Damon!!! Here's a little description: David Norris (Matt Damon) glimpses the future Fate has planned for him...and chooses to fight for his own destiny. Battling the powerful Adjustment Bureau across, under and through the streets of New York, he risks his destined greatness to be with the only woman he's ever loved
10) Favorite TV Series:
This is hard because I really do love TV....after the kids are in bed, hubby and I like to watch TV together. I would have to say that I have many I "HAVE" to watch.....but my newest favorite in the year 2011 is Two Broke Girls.
9) Favorite Restaurant:
My favorite restaurant is at Disney (go figure, huh?) I love the Crystal Palace. It's pretty inside, has great food and who doesn't love Pooh, Piglet, Tigger, and Eeyore?
8) Favorite New Thing I Tried:
This would have to be blogging. I used to secretly stalk them--and now I've started my own. I have to admit I still have a lot to learn, but the blogging community is AWESOME!!!
7) Favorite Gift you Received:
Going to Disney for Christmas!! (Yes, I'm a Disney fan--and yes, it seems to be where we end up every summer for our vacation.---and no, I don't get tired of it lol) But going at Christmas was a different experience in itself...as we've never been AND it has a sentimental story behind it. When my mom was sick, she used to say that she'd love to take all of us (my siblings and our families) to Disney for Christmas (my Mom was also a Disney fan, but hadn't been for Christmas) but unfortunately, it didn't happen. So I'm so thankful for my wonderful husband for taking us down--Mom wasn't there with us---but I know she was watching over me!
6) Favorite Thing You Pinned:
I have not been on pinterest as much as I would like to be---and I know there are LOTS and LOTS of great ideas--but the baker in me is very VERY appreciative of this recipe for Butterfinger Cupcakes. You can click the picture to see it on my pinterest board.
5) Favorite Blog Post:
I would have to say that it was the "mint to be plural game" that I made and posted about. I had several comments and lots of hits on that post. You can click here if you want to see it.
4) Best Accomplishment:
I actually sold items in my Teacher Store!! I was shocked
ec
static
that
things have sold. Thank you so much...you all are helping me with my clip art addiction! ;)
3) Favorite Picture:
2) Favorite Memory:
Wow....I don't know where to begin on this one. When you have young kids, 9 and 5, everyday brings on a new adventure thus causing WONDERFUL memories. I guess I'd have to say that this year it was surprising them with a trip to Disney (summer trip--because we said we weren't going). We would give them clues (but they weren't great....for example, it's a state, it may be hot there or may not be, some people fly to get there, etc.) We were at the Florida Welcome Center (my kiddos in their disney shirts)---and they STILL didn't know where we were going. It's a memory I will always treasure---it's nice to surprise them! :)
1
) Goal for 2012:
I have 3---
1) Make a new recipe a week WITH the family...whether it be a dessert, or a main course. This allows more family time and my children at least try new things when they help make it.
2) Have more "dates" with my husband---married 10+ years.....and since my daughter has been born (and she's 9) we've not had much alone time. Sad I know---but I always hated the thought of leaving my kids (now I'm ready for a break lol)
3) Continue blogging, sharing freebies, making things for TPT---all at the "teacher-y level"--now as for the baker in me....be okay with taking orders from friends/co-workers. I was asked this month for a couple cupcake orders and I HATED charging them for it----this bakery will take off some day! :)
There ya have it my 11 in 11!!! Stay tuned, I have a January Writing Prompt and Word Bank to post soon! :)