Yes! That title suits me perfectly right now. With all the current changes in education here in Ohio--You know how test scores are 50% of my evaluation--with demands from administrators, data collections, TBT meetings, evaluations, testing, and parents---UGH! Somewhere along the line I forgot why I started teaching. OHH YES!! Because I wanted to be one of the ones that helped mold our future....to teach students to think for themselves..not be robotic and heaven forbid these students become just a number! What happened to education? None of this was around when I was in elementary school. I *think* I turned out okay, though some may argue with the definition of "okay" ;) I just wish that things could be less stressful, and more meaningful!!
Soo............................
This week is one of those weeks. It's a short week for us in my district due to an Inservice, and then a (nonpaid day) for Central Ohio Teachers Association. I like these short weeks because I pull away from our basals and curriculum just for a bit. For example yesterday we did various activities for Christopher Columbus. Then today (and tomorrow) we are working on bats.
I have Erica's bat unit that I bought (and loved) last year. We are using it again this year.
Click HERE to see it on her blog. Click HERE to see it on TpT.










We read/looked through a few non-fiction bat stories today.
Here is one that the students enjoyed.
Click the picture to see it on Amazon.






We completed an anchor chart to help students for tomorrow's writing and
we completed the bat diagram.
We sequenced numbers for math, comparing them and discussing the tens/ones.
We also watched Magic School Bus Gone Batty.
(You can still find it on youtube if you search by episode numbers..I do think they keep trying to take them down as soon as they get put up.)
Tomorrow we are going to read Stellaluna and use more of Erica's pack.
Click the image above to view it on Amazon.




We are also going to be using Teri's bat craft and writing a fact (or facts) we've learned about bats.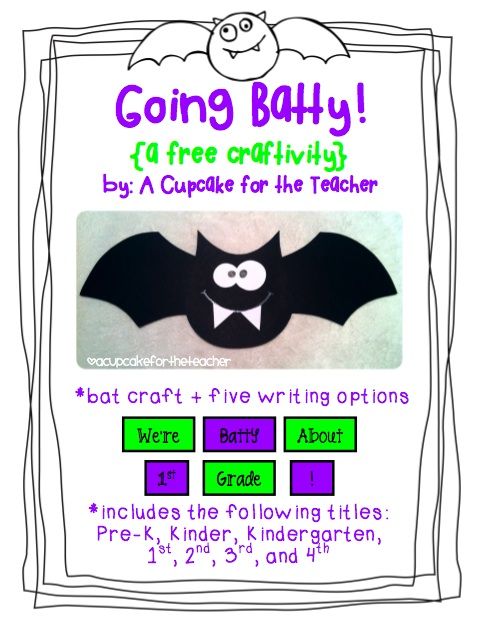 Click HERE to see it on TpT. Click HERE to see it on her blog.
I also am going to use this nonfiction reader with my students.
At our school library, many of the non-fiction readers are above my student's level.
They lose interest due to the length, but enjoy the content and the pictures.
I try to skim over a lot of the material, but decided that it may be easier
to write my own story for them.
You can click
HERE
to grab you a free reader.
Next week will go back to a normal week.
We will be working on these in our math stations/tubs.
You can click
HERE
to see them on TpT.