This week my kinders are revisiting the letter T during intervention.
We start with watching the great little video on ABCMouse.
I have to use my IPad as I do not have a projector (*insert major sad face here*)
You can also view the video on YouTube.
(While I'm sharing YouTube songs, here are some other cute ones for the Letter T.)
I watched a few minutes of the one below this evening.
It looks kinda cute, but I've not had the time to share it with my kiddos.

The videos are a good way for me to get my students to listen for words.
They have a hard time hearing the sounds, and this also helps increase their vocabulary.
We listen to a song every day to come up with a word list.
Yesterday we made the letter T. We cut and pasted a sentence that said "T is for torn paper." Students ripped paper up and glued it inside of our T shape. This helps with those fine mother skills.
Today we drew pictures that begin with the T sound, and also completed a sort.
We did one whole group, and one independently.
You can see those activities in a letter pack I made.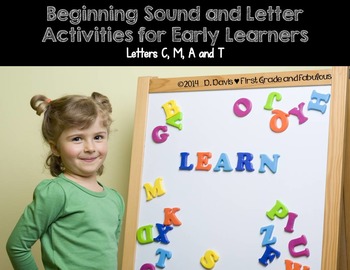 I will be working on more letter packs similar to this one.
I do so some improvement with my kinders with the variety of
activities we've been doing from this pack.
I'm also not wanting to just focus on letter sounds.
I believe rhyme is important, as well as learning to track print.
These are all beginning skills that are very essential to early readers.
We are using the nursery rhyme I'm a Little Teapot along with our letter T activities.
We've been singing the song, acting out the motions, and my girls (my guys not so much) are really enjoying this. They are recognizing the letter T and the sound T.
I thought I'd share with you our Little Teapot activity.
We will be searching for the letter T in our booklets and highlighting them.
I did make a projector image for you--remember I don't have a projector... *insert sad face again*
The dots inside the student reader are to help my kiddos track the print.
I want them to understand that these are words. Words have spaces between them to build sentences.
We will also be sequencing our nursery rhyme.
If you think you can use any of these activities with your kiddos, click the image below..
.and I'd love to hear from you with a little comment!! :)