This is the first linky party I've done--so bare with me! I thought it would be fun to try out--and this one is perfect with all the new blogs out there!
Yearn to Learn
is hosting a linky party. A linky party (for those newbies like me) is a great way to browse other blogs! So here's the rules for this one.
1. A blogger who is a "New Kid on the Blog"--someone new to blogging (less than 2 months and 200 or less followers)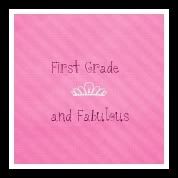 Hey--that would be me!!! :)
2. Post a blogger in your same grade level
There are SO many great first grade bloggers that it was hard to choose just one. This blog was one that I first started looking at...and is one that I like to read. Again, hard to choose just one. :) But
First Grade Parade
is one that's in my grade level with TONS of wonderful ideas--and guess what? Even more first grade links--how awesome and addictive is this?
3. Post a blogger in a different grade level
Mrs. Stamp
is a new blogger, and a different grade level--and one of my followers. I would have to recommend hers. Her blog post was how I ended up posting this! :)
4. It's all about the button. Find a cute blog button and post it.
Really??? Just one again? WOW--who would have thought this would be so difficult? Hmm....
I think this one is FABULOUS!! Click the cute button for another Awesome first grade website!